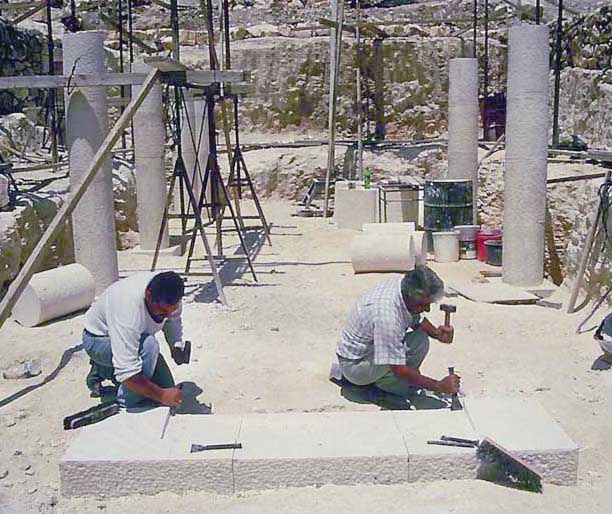 Creating the groove through which the door-pegs pass to sit in place in the ground creating the axis on which the door will swing
The above archaeological work saw the team conduct field surveys of 20 past and current excavations and spend two years combing ancient texts. The result is a growing body of evidence regarding the farming and building techniques of Jewish agricultural villages in the Early Roman Period. Based on this work, the terraces were restored to their original condition and a Village was constructed that portrays first-century Nazareth as accurately as possible, using identical materials and building methods.
In the year 2000 Nazareth Village opened its doors to the world. Thousands of local school children flocked to learn about life in the time of Jesus and visitors from across the globe started arriving for the biblical experience of a lifetime. Today, more than 100,000 people from over 150 nations visit the Village each year.
The dream of showing the world what Nazareth was like in the time of Jesus was first envisioned by Dr. Nakhle Bishara and took shape under the tireless leadership of Nazareth Village's first Director, D. Michael Hostetler. Since its establishment, the village has flourished thanks to continuing contributions from Sherry Herschend and the Miracle of Nazareth Foundation, Cary Summers and many hundreds of others.